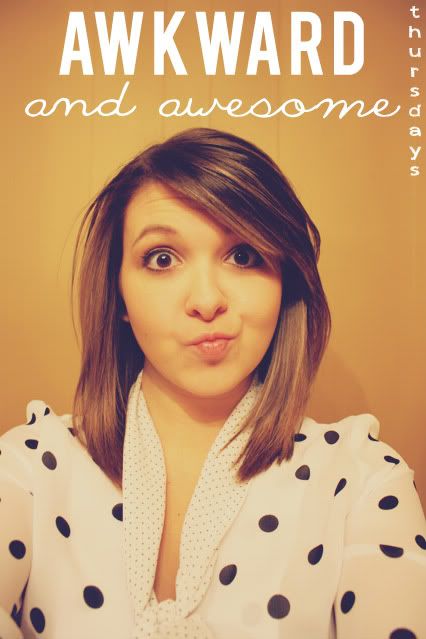 awkward
- That silly wind that kept blowing my scarf in my face as I tried to walk cross campus.
- You know, when you're walking and all of a sudden the sidewalk jumps up at you and you sort of stumble over it and then look back at it like "whoa, when did that get there!" and hope that no one saw. Yeah.
- The fact that one of my co-workers has never heard of big foot.
- Also, that the same co-worker shared with us that her dad told her you can't take more than one vitamin a day. To which another co-worker replied, what were you going to take 30 on the first of the month and then not have to worry about it? Ha.
- The fact that I'm taken yet I scan my classes thinking of who I could match up with my single friends (just a wannabe match maker).
- Realizing that I wore the same cardigan to work Friday, Monday, and Thursday. Well, now you know it's my favorite. And that it's time to wash that thing.
awesome
- Hubby and I taking Bear with us through the car was for the first time. He was hilarious. And we've discovered that he loves going for rides in the car.
- Getting my hair did for the first time in a while. I love a little pampering.
- Exams are over. At least until midterm. But on the bright side, I've had all the "first exams of the semester" that I will ever have!
- Husband making peppermint cookies the night I was swamped with homework. I love that guy.
- Getting asked to take some graduation photos for one of my friends! It's going to be super fun!
- Having a puppy that likes to snuggle. I mean, really, really likes to snuggle. He couldn't have picked a better family to come in to.