The DIY project I wanted to share with you all today was a lot of fun for me to create! I made it as a birthday gift for my friend
Mackenzie
and now I'm thinking I might make one for myself.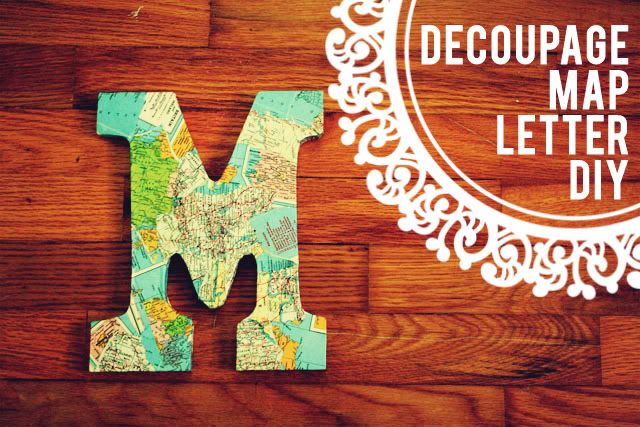 Supplies: Sponge brush, Mod Podge (I used matte, but glossy would work too), paper (I chose vintage map pages, it took almost 3 small pages), and a letter of your choice. Because Mod Podge works on almost all surfaces, you could use letters made out of any material. Mine was wooden with white paint already on it and I purchased it from Micheal's craft store.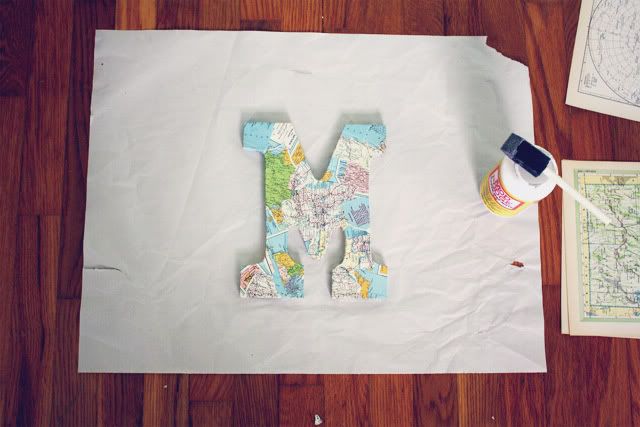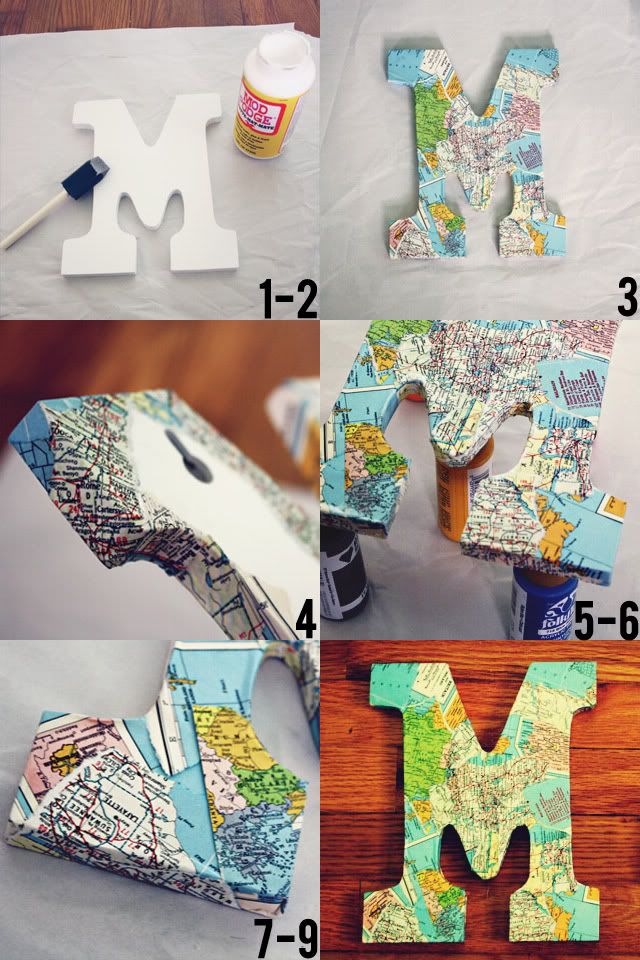 1.
To prep for the project, rip the papers into pieces of various sizes that can be used to cover the letter. I chose to leave one page whole so I could tear off pieces as needed when the letter was close to being covered.
2.
Cover the surface of the letter with a coat of Mod Podge, apply it with the sponge brush. If you are working on a large letter, you may want to only do this in sections at a time.
3.
Start placing the torn pieces of paper on the letter. Place them on the top of the letter first without folding the edges over.
4.
After you have covered most of the letter, start applying Mod Podge to the sides of the letter and folding the pages around to the back. I chose to leave the back of my letter with the imperfect edges from tearing so that the handmade effect was still visible. Also, my letter came with two holes in the back so the letter could be hung on a wall. If yours has holes and you intend to use them, do not cover them with the paper.
5.
After the entire surface of the letter is covered in paper, let it dry for 15-20 minutes.
6.
Then apply a thin topcoat of Mod Podge all over the letter using the sponge brush. To allow the sides to dry without sticking to other surfaces, I propped my letter up with craft paint bottles, you could use anything smaller than the letter to prop it up so long as it won't damage it.
7.
Allow the topcoat to dry for 15-20 minutes and then repeat with a second topcoat.
8.
After the second topcoat has dried for 15-20 minutes, I checked the letter to make sure no paper was sticking out and that the entire surface was covered. This will keep it protected.
9.
I let the letter dry for a few hours while we went out to dinner before wrapping as a gift just to be sure it wouldn't stick to anything else. A little extra drying time never hurts.
Enjoy!