As I was browsing through my closet the other day looking for something to wear, I started noticing patterns of pieces that I have many of. I started thinking about the value of them and why I own them. It was ironic to think that some of the pieces that I have the most of in that style, are the pieces I have worn the most. I thought I would share a little bit of my epiphany about what types of pieces it's good to have multiples of.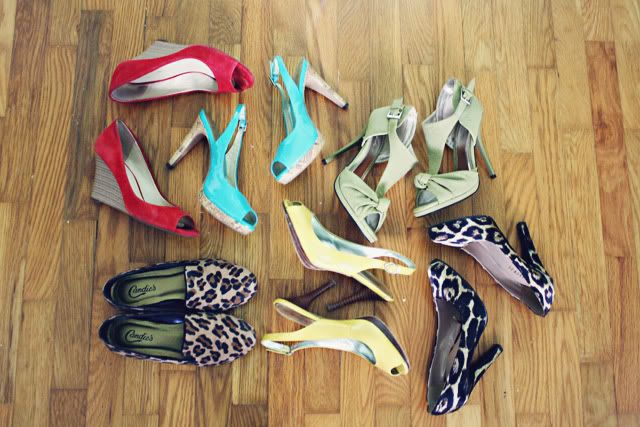 1. Colored shoes.
I remember hearing when I was little that it is important for a lady to own the essential shoes such as black and brown, because those go with everything. While I definitely won't condemn a good pair of black or brown shoes, I have to say that today's fashion has opened up to a much broader horizon. Color shoes and pattern shoes are now some of the must haves for your closet because some of the rules of being matchy-matchy have gone out the window. I actually love to wear shoes that are a completely different color than anything in my outfit because it makes them pop. I wear my red shoes and leopard shoes with practically anything, they have become very versatile.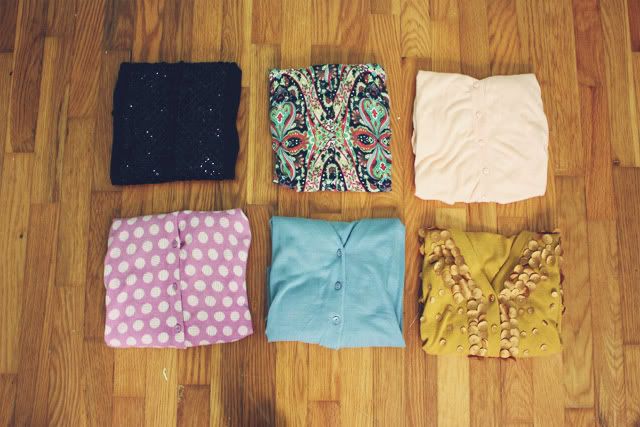 2. Cardigans.
Never under estimate the power of a cardigan. I think back in the 90s they used to sell cardigan and tank sets in matching colors or patterns? That is definitely not the case now. Cardigans really allow you to mix up your wardrobe. Wear them with a tank, a tee, a button down, or even over a dress. You can button them up, belt them, wear them open, and I've even seen them worn backwards on a few blogs. Patterned cardigans are great for pattern mixing or wearing them over a graphic print tee, it gives your outfit a creative flare. Plus, let's not forget that they keep you warm when need be.
3. Printed blouses.
Some mornings, printed blouses save my life...or at least my job. Whenever I'm running late or feeling in a creative outfit rut, I turn to my trusty blouses with patterns that never go wrong. These blouses have such great patterns that I really don't even have to think about pairing them with anything or about getting creative. I can easily pair them with jeans, skirts, dress pants, and they are so easy. Of course you can always be more creative with them, but they allow you to play hookey a little on your style. And of course, large patterns make you look smaller because there is less pattern per person, and small patterns look really great under solid cardigans, or even for adding a little pattern mixing flare.
I hope this post helps you think about some of the versatility of certain pieces in your closet. I'm usually drawn to colored shoes and I love cardigans of all styles, colors, and patterns. But it works, I don't have to worry about having too many because I can really do so many different things with them. I also don't have to feel guilty about purchasing red shoes and only wearing them a handful of times, I wear them with everything and I'd almost say I've gotten more use out of them than some of the more neutral black or brown shoes I own. And of course, if you don't have any of these pieces in your closet, I would definitely recommend adding them, especially if you are like me, always staring at your closet going "I don't know what to wear." These lovelies are problem solvers.