I keep a journal especially for ideas about DIYs, fashion, and blog posts. It really helps on those nights when I can't fall asleep because of all the thoughts running through my mind. It's also good for killing time during lunch breaks. And of course, being organized could pretty much never be a bad thing.
I bought a journal at TJMaxx because the fabric reminded me of burlap with a typewriter font. I loved it for a while, but eventually I decided it was lacking something. I contemplated it for weeks and then when I was browsing through my wedding board on Pinterest, I remembered what an amazing combination burlap and lace can be. So that settled it.
This DIY project is very simple. I embellished my journal with a lace applique, but there are so many more options for embellishing I'm sure this could inspire you for many more ideas such as fabric, quilted pieces, glitter, paper, or little cardboard scrapbooking letters.
The only supplies you need are:
-the journal
-a lace applique (proportionate to your journal)
-mod podge
-a sponge brush
-a heavy object such as a book
1. Move the lace applique around on your journal to get an idea of where you want it. 2. Use the sponge brush to apply Mod Podge to the large areas of the lace applique. 3. Place the applique on the journal and press it down with your fingers. 4. Lift the edges and pieces of thin lace, apply Mod Podge to the journal in those areas. Don't worry, you won't be able to see it when it dries. 5. Place the heavy object on top of the journal so that pressure is applied while the Mod Podge dries. Leave it for at least an hour.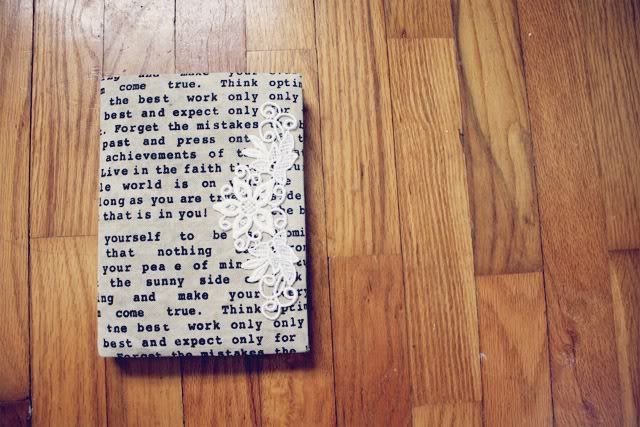 Now the cover of my journal is a little more inspiring when I pull it out to scribble down some thoughts. Hope you feel inspired, too.